DeskManager Online can create a customized Account Number sequence unique to each of your dealership lots.
By assigning unique Account Number sequences to specific lots, dealers can better differentiate and identify their customer accounts.
Creating an Account Number Sequence
First, click the Settings cogwheel located at the bottom of the leftmost sidebar. From the Settings pop-up menu, click Deal and select Account Number.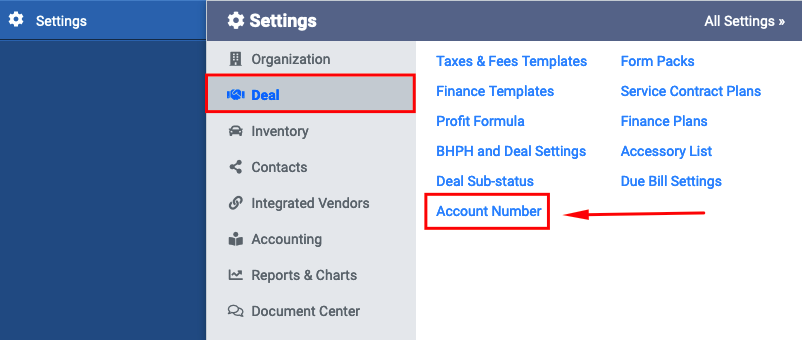 On the Account Number setup page, click the name of the lot in need of a new Account Number sequence.

The Prefix and Suffix are optional and will always remain the same. The Next Number increases by one each time an account is created.

In the example image, the next account number would be A1D. The following account number would be A2D.
If you want to be able to change an account number manually, be sure to check the Manual Edit box.

Once you are finished, click Save & Close. New accounts created in this lot will now use the selected account number sequence.