May 2023 Product Updates
Hello AutoManager Dealers,
We hope this message finds you well. Our team at AutoManager has been hard at work implementing new features and creating comprehensive video tutorials to help you make the most of our products, DeskManager DMS and WebManager websites. Today, we're excited to share these updates with you.
New Help Interface in DeskManager Online (DMO)
We've added a new Help Interface in DeskManager Online to better assist you. The interface is available from all pages within DMO and allows for viewing help articles without having to navigate away from your current page. This update aims to provide you with immediate access to relevant information, making your tasks smoother and more efficient.
Moreover, this new interface allows you to reach out directly to our customer support team. Your queries and concerns are paramount to us, and we believe this feature will enable us to provide you with faster and more effective support.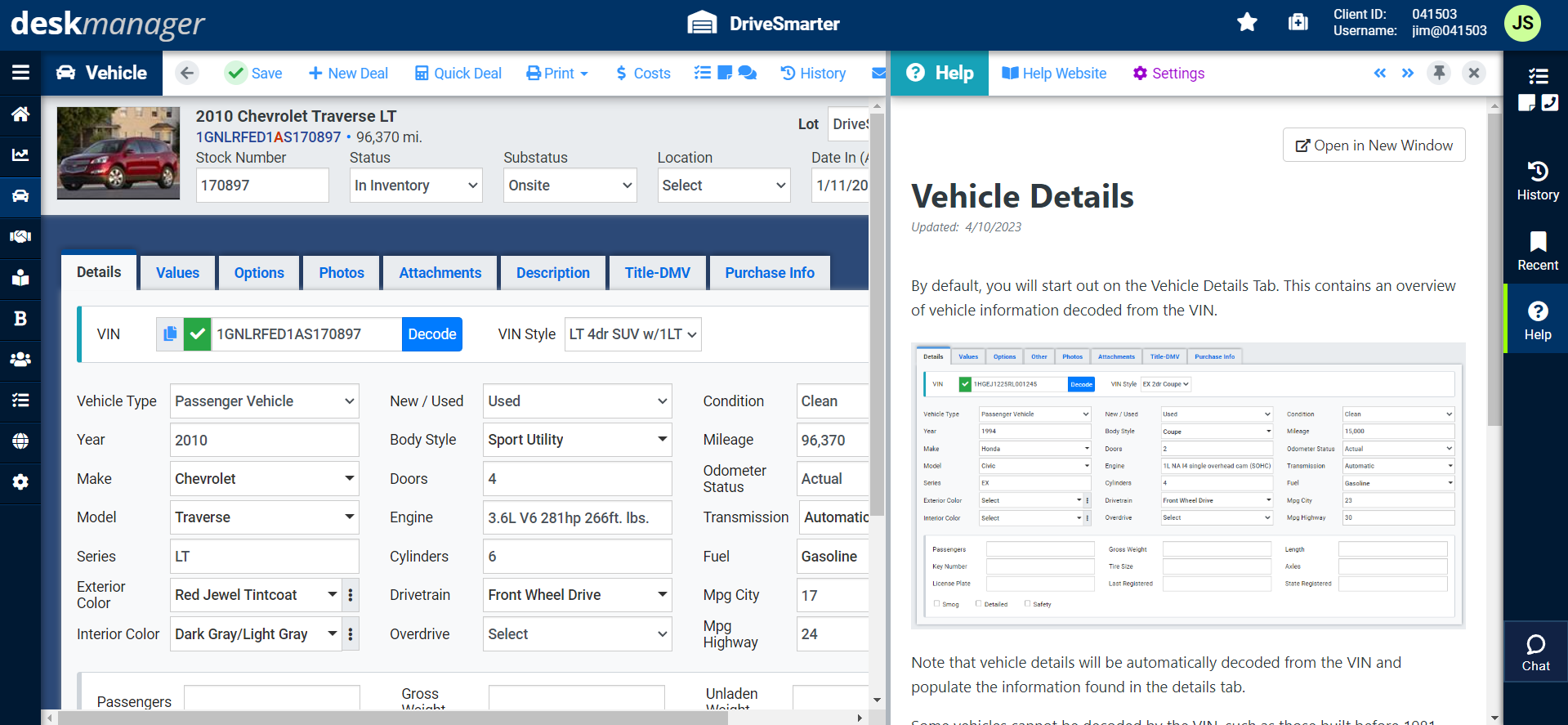 New Video Tutorials
We believe that visual learning can significantly enhance user experience and understanding of our products. Therefore, we've prepared a series of new video tutorials for our dealers:
How to Setup Selly CRM with WebManager

Multi-Factor Authentication in DeskManager Online

Navigating DeskManager Online

New Reporting System

WebManager Walkthrough
Thank you for your continued support and trust in AutoManager. We're committed to providing you with the best possible tools and resources to manage your business efficiently.
Best Regards,
AutoManager Team
---
April 2023 Product Update
We are excited to announce the addition of IntelliPay as an integrated payment processor in DeskManager and DeskManager Online. With IntelliPay, you will be able to accept a variety of payment methods, including credit cards and debit cards. You will also have access to no-cost payment solutions that allow you to recoup a portion or the entire cost of processing a payment by passing the fee onto the customer.
The transition from your old payment processor to IntelliPay is easy and can be done slowly over time. If you switch to IntelliPay, DeskManager will retain the ability to process payments using your old payment processor. This means you don't not have to stress over not being able to collect payments during the transition.
We understand that payment processing is a critical aspect of your business, and we are committed to providing you with the best possible options.
---
March 2023 Product Update
DeskManager Online
We are excited to announce the launch of our new reporting system, designed specifically for car dealers like you. Our system is designed to simplify the reporting process and provide you with accurate and timely information about your sales and inventory.
With our new reporting system, you will have access to a wide library of reports, including:
Inventory Aging, Value, and Expense Reports

Comprehensive Sales Reports

Buy-Here Pay-Here Reports Detailing Account Balances & Payments

And much more
Our reporting system is intuitive and easy to use, so you can quickly analyze your data and make informed decisions. You can customize your reports to focus on the information that matters most to you and create report summaries that highlight your dealership's key performance indicators.
We understand that running a successful car dealership is a complex and challenging task, and we believe that our reporting system can help you streamline your operations and achieve your goals more efficiently.
If you are interested in learning more about our reporting system or would like to schedule a demo, please don't hesitate to contact us. We look forward to hearing from you and helping you take your car dealership to the next level.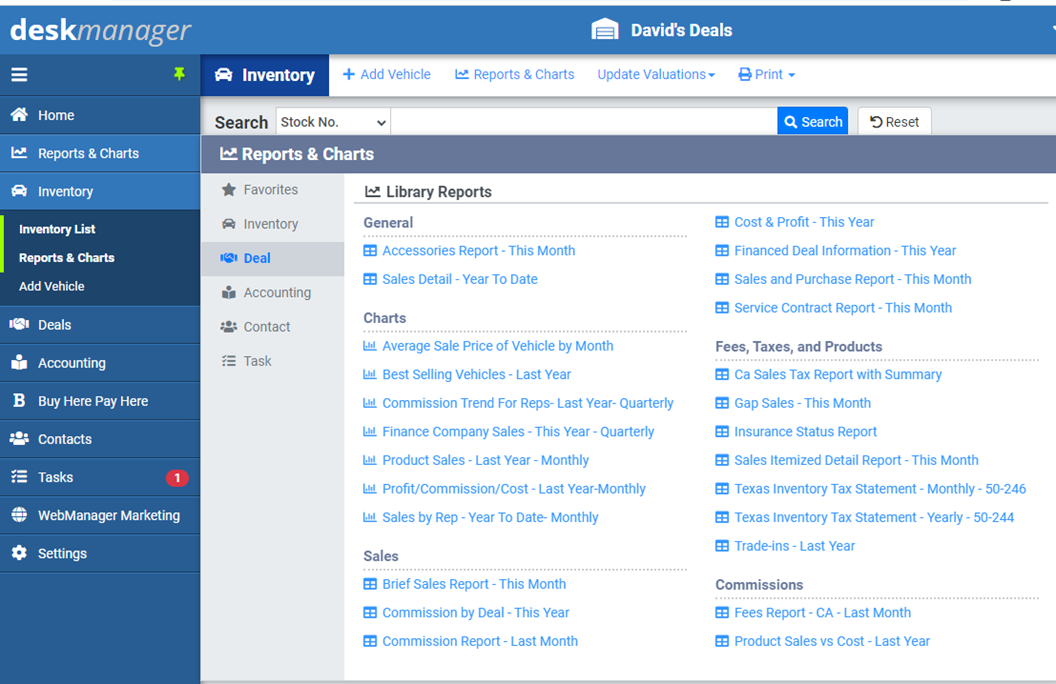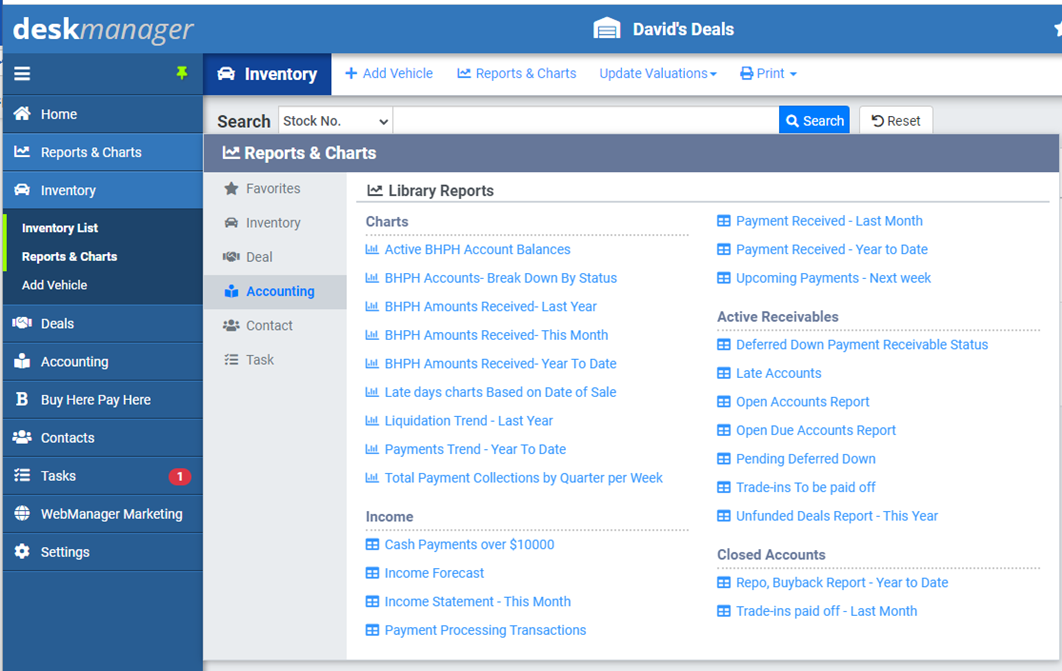 ---
January 2023 Product Update
DeskManager Online
We have improved the user experience for entering or modifying Trade-In vehicle information. Now, you can easily enter your Trade-In information without leaving the deal screen. You can also run valuations and history reports on the Trade-In vehicle.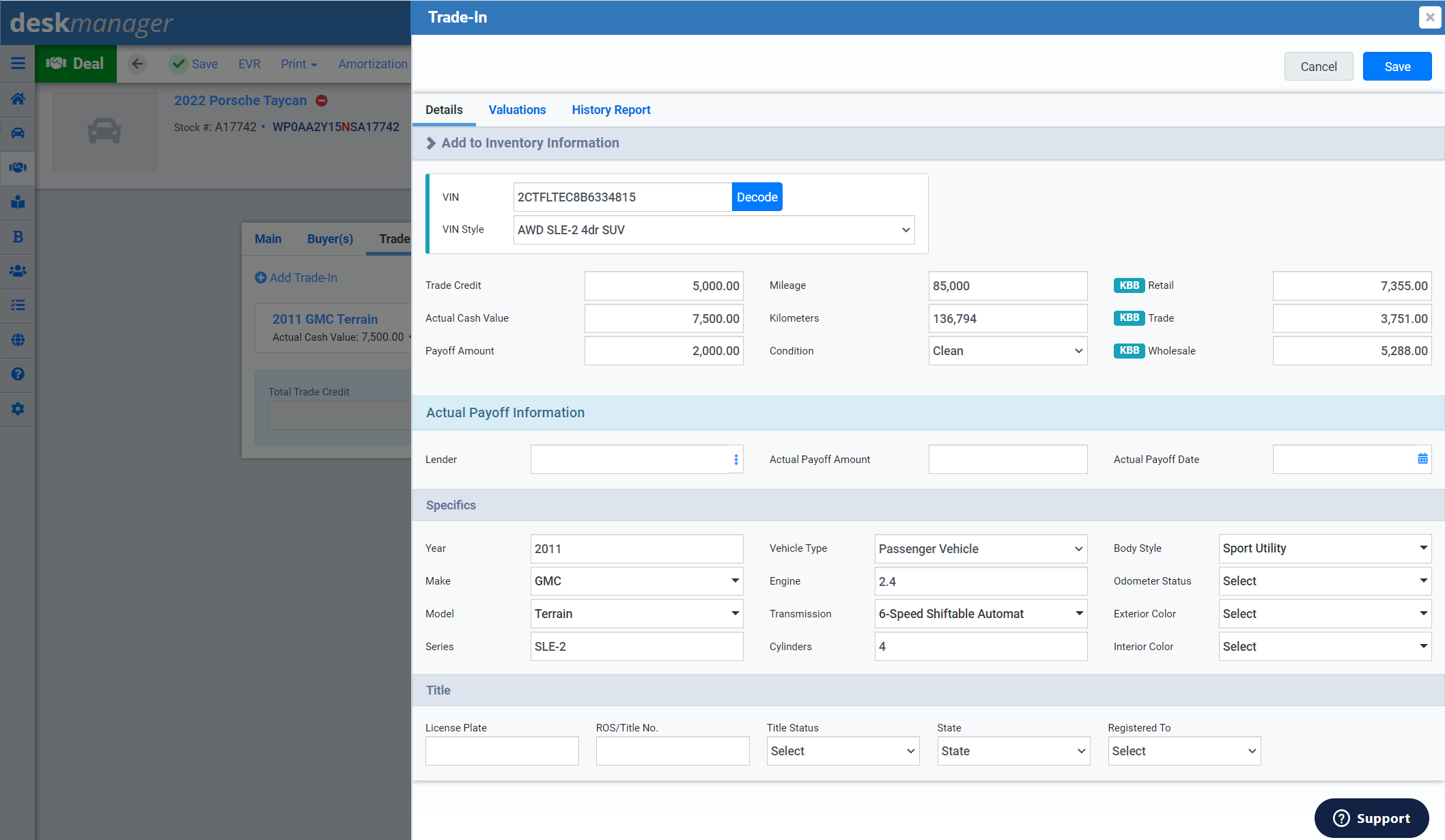 We have also improved the screens for managing buyer's and cobuyer's information. You can also enter all their information without leaving the deal screen.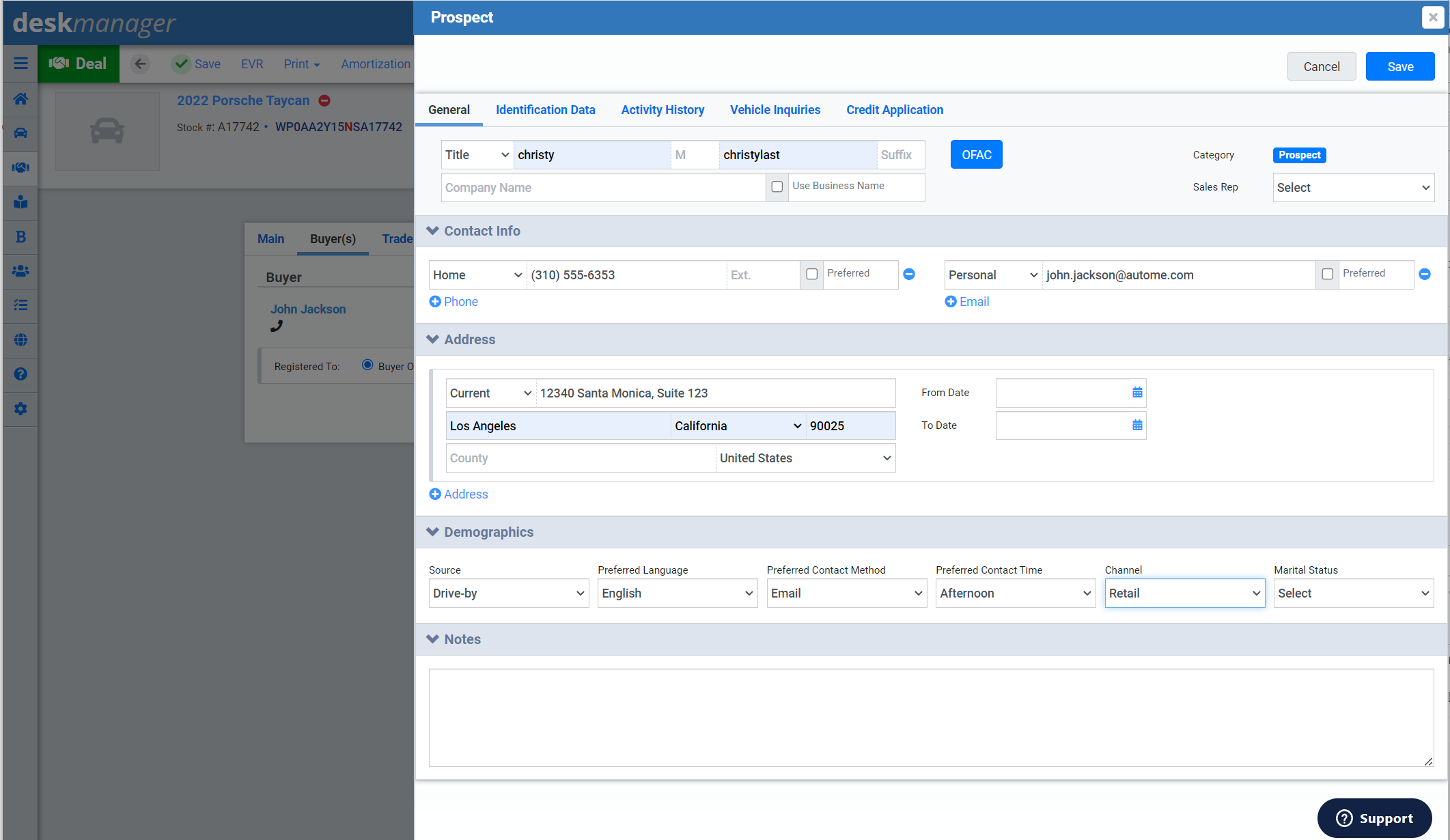 We are also adding major new enhancements in the areas of Reporting and Custom Reports and are adding new management reports to the product. So, stay tuned for more exciting features to come!
---
December 2022 Product Update
Hello AutoManager Dealers! This month our product update will feature the latest updates for DeskManager Online and WebManager.
DeskManager Online
DeskManager Online now allows print margins to be adjusted for each Dot Matrix form so that you can get the perfect print output for each one of your forms. As you know, Dot Matrix forms are still widely used by many dealerships across the country. However, Dot Matrix printers mostly use older technologies and are not as convenient as laser printers. Having the ability to fine-tune your print margins for every form eliminates the effort to manually adjust the paper for each print job and therefore ensures the ideal print output in every attempt.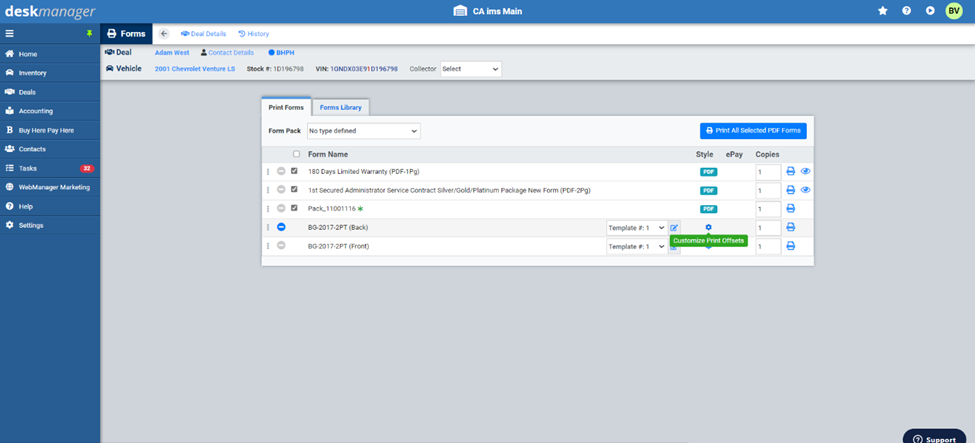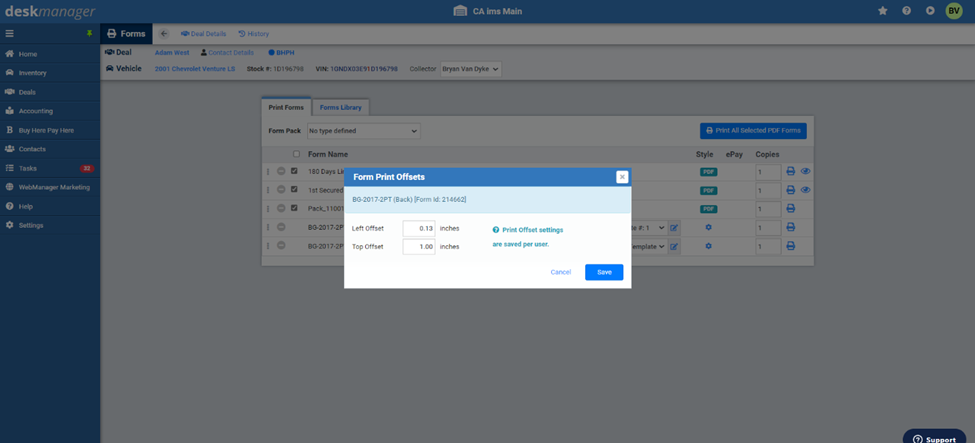 DeskManager Online- Upcoming Feature
We are excited to announce the availability of Two-Factor Authentication for our DeskManager Online platform in our upcoming release. Two-Factor Authentication is an extra layer of protection designed to bolster data security and prevent malicious access to your user accounts and customers' data. By enabling Two-Factor Authentication, when a user signs in to the system, they will be asked for their username and password also known as the First Factor. Once the user passes this first step, the system will generate a security code and will send that code to the user, using email or SMS for verification purposes. This security code serves as the Second Factor in the user authentication process.
Two-Factor authentication is rapidly becoming mainstream and virtually a mandatory feature in many industries, especially in financial-related industries. As a dealership that collects confidential information about your customers and handles their loans and financial matters, using two-factor authentication is another step that gives your customers the peace of mind that their information is well protected. It will also give you confidence knowing that your customers' information is only accessible by your authorized personnel.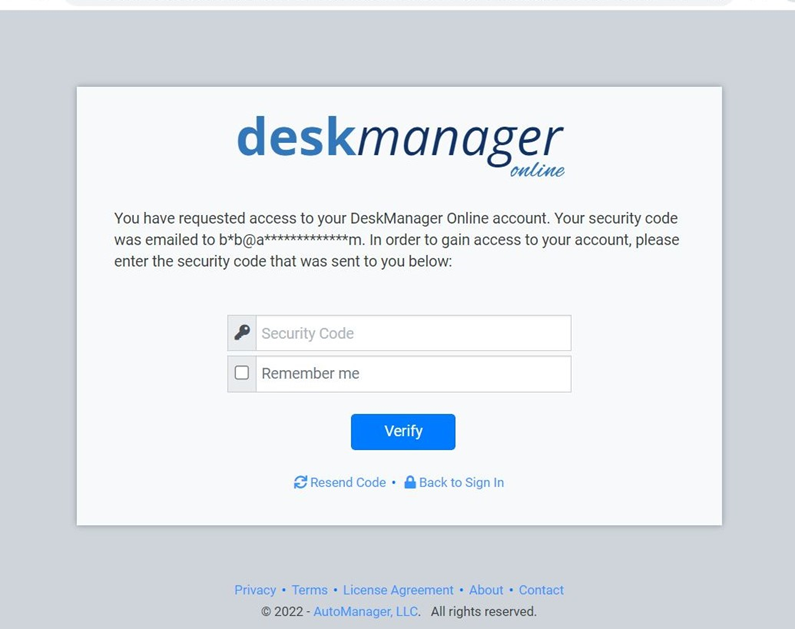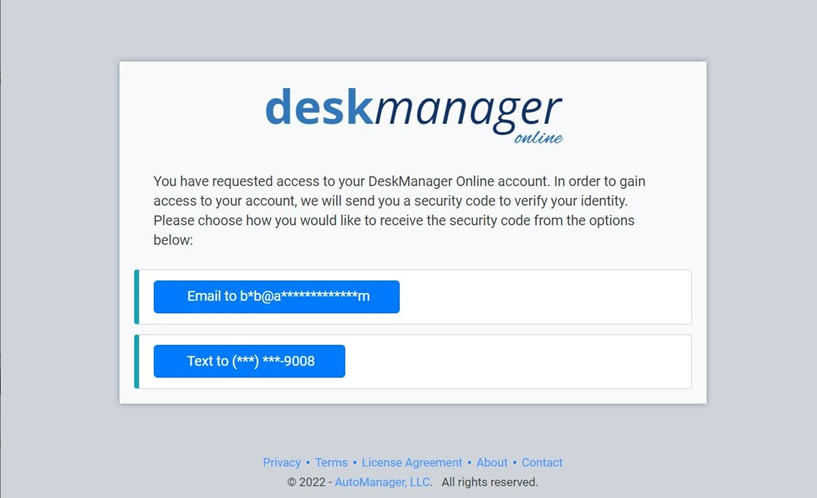 WebManager- Upcoming Feature
We are creating a powerful feature to use for designing pages on your website: Content Containers. Content Containers are a new element that allows you to group together other elements. These content containers can be grouped together within a column to create a tabbed or accordion collection of all of your content containers within that column. This additional layer will give you much more control and power to design and create a clean, modern-looking website as well as use our new upcoming themes that will use these features.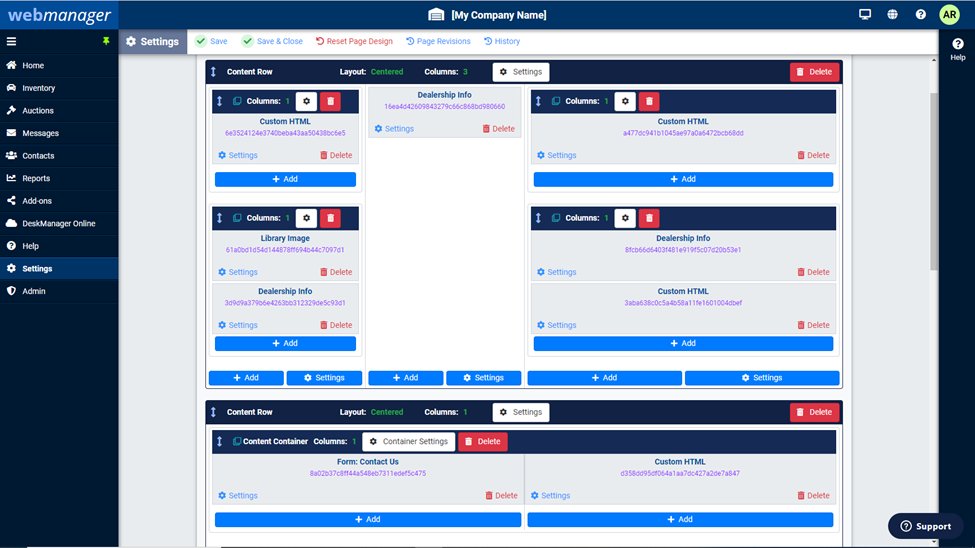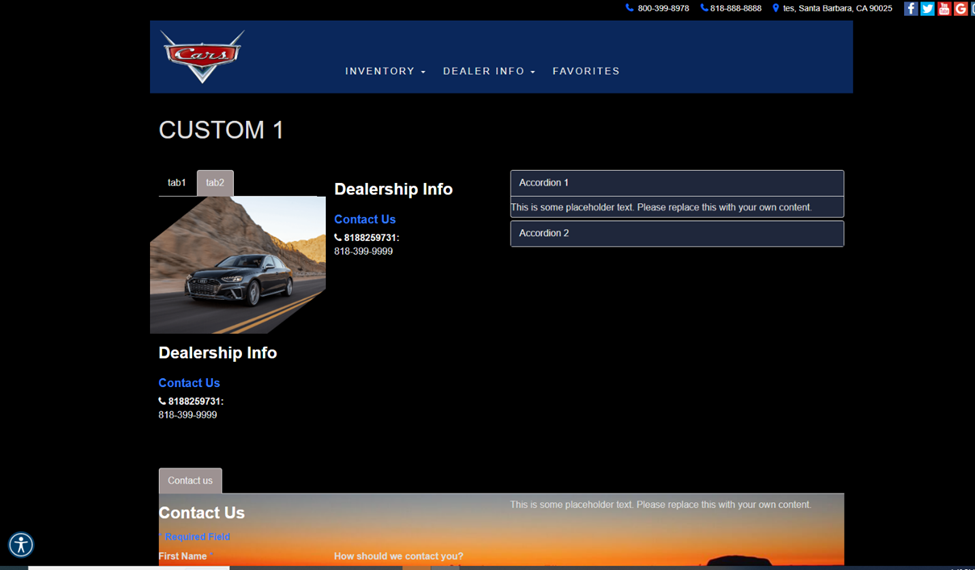 ---
October 2022 Product Update
Hello AutoManager Dealers!
This month our product update will feature the latest enhancements to WebManager. We will soon be releasing an updated design for the WebManager control panel. If you are a DeskManager Online user, aspects of the updated design will already be familiar to you. It features better navigation, makes better use of the available screen space, and presents your important data more clearly.
We've included a couple screenshots below and you can find out more information about the latest WebManager Control Panel design on your WebManager dashboard.
If you are interested in trying out the new control panel early, please contact your AutoManager account representative via email or phone!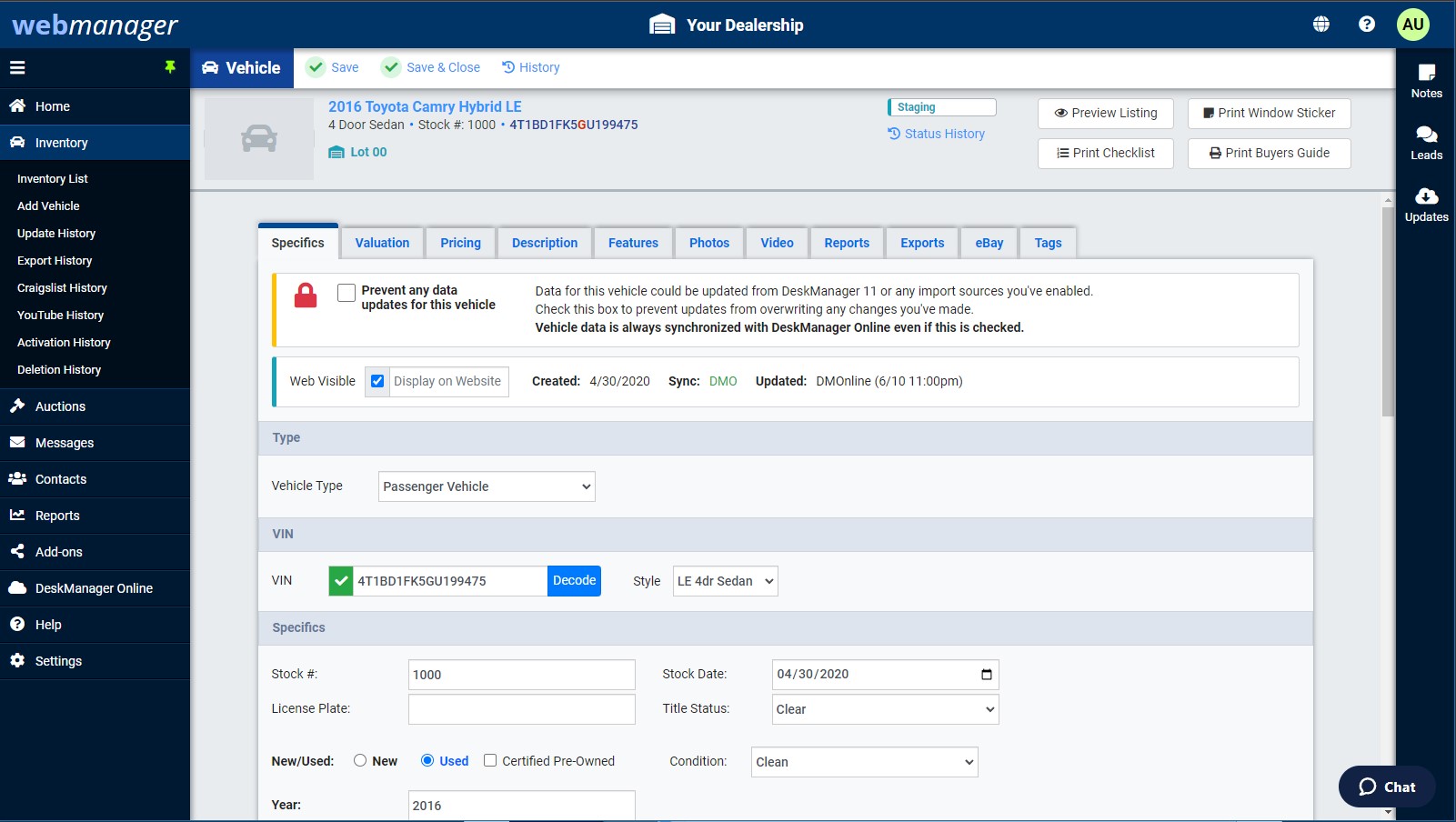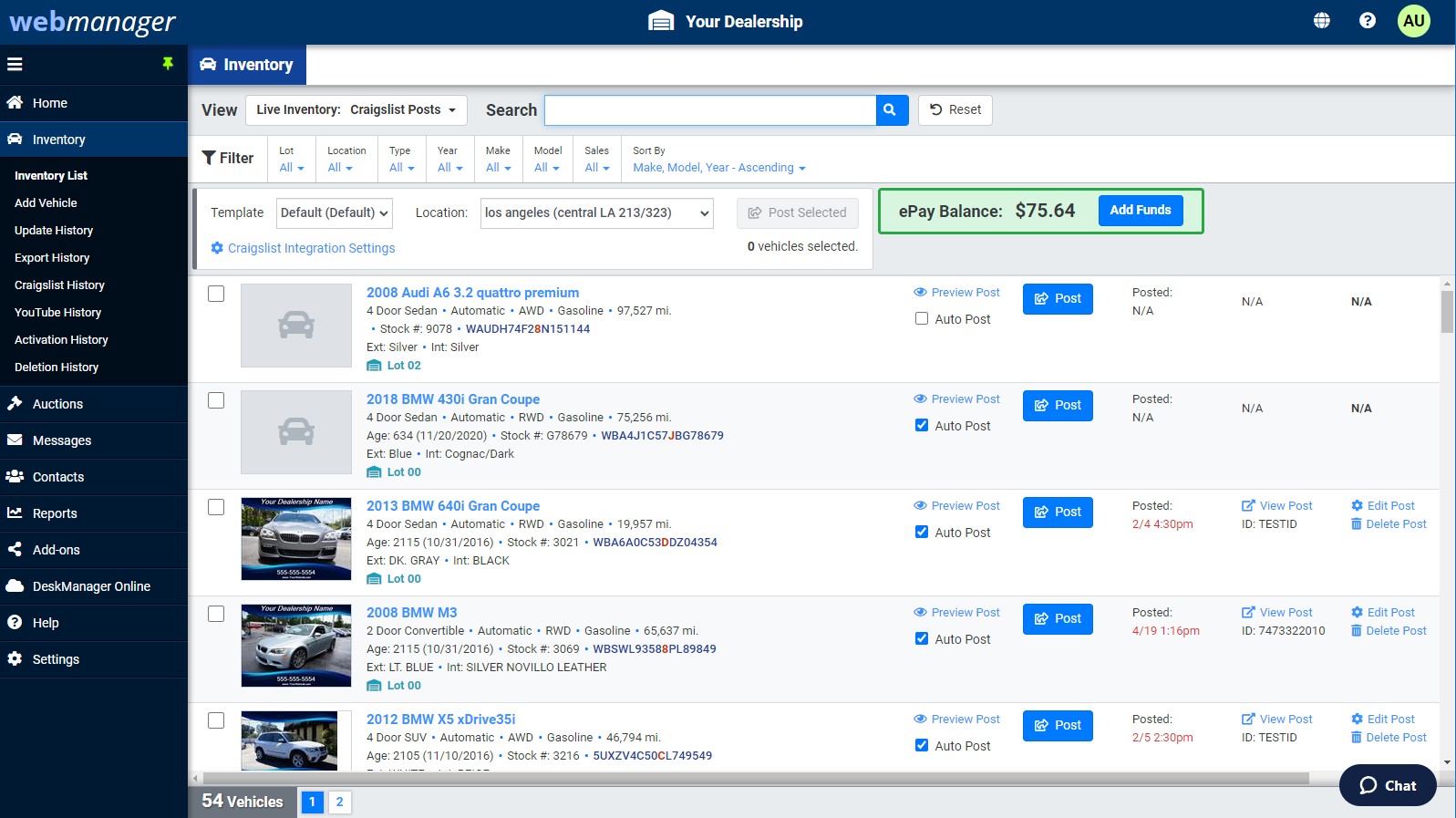 ---
September 2022 Product Update
Hello AutoManager Dealers,
We are excited to release the first product update in our inaugural company newsletter. Each month we will give product updates across DeskManager Online, WebManager, and DeskManager 11 products. We will continue to improve this format and are excited to bring our customers close to all the great updates our engineering team is creating!
DeskManager Online
DeskManager Online has created Quick Deal Calculators and Desking features to help you generate multiple sales scenarios by just entering a few numbers. You can also use our improved affordability calculators to put your customers in cars that they love and can actually afford. Furthermore, you can also check your own profit margins for each scenario to get a better understanding of your bottom line.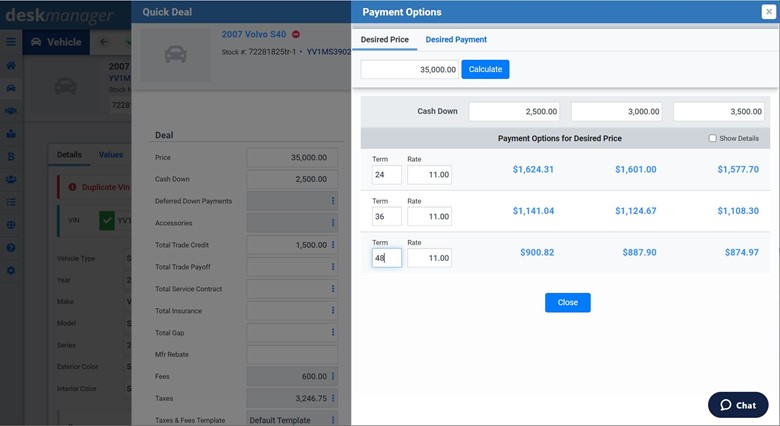 WebManager
We have been working hard to update the Control Panel to have a more modern interface similar to DeskManager Online. This update is coming soon and here is a sneak preview: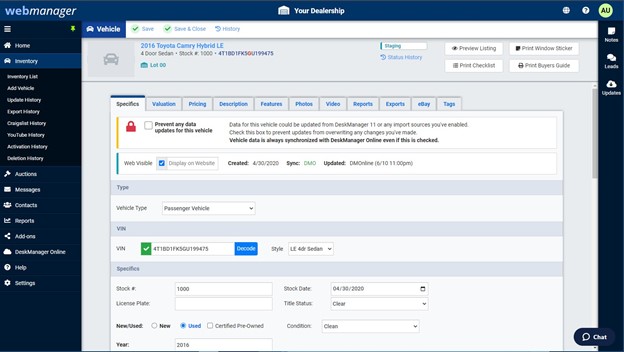 DeskManager 11
The latest version of DeskManager 11 has improved the Frazer Import feature to better support BHPH account balance information and has expanded the export to DeskManager Online to include system settings and third-party tables.
We look forward to continuing these product updates and keeping our customers in the loop on innovation from AutoManager!
Warm Regards,
Marketing Team